Festivale Stallholders 2023
Festivale this year, features a whole myriad of stallholders, some seasoned and some new.
Expect a great range of food choices together with a wide selection of beverages to match.  Tickets for the event can be purchased here.
1.   AMORE FOOD TRUCK
ICE CREAM/ SORBET/ VEGAN ICE CREAM
QUESADILLAS
GLUTEN FREE AND VEGAN DOUGHNUTS
BURRITO

SPREYTON LEAPING GOAT COFFEE
2.  FESTIVAL TEMPURA MUSHROOMS
TEMPURA MUSHROOMS
GLUTEN FREE TEMPURA MUSHROOMS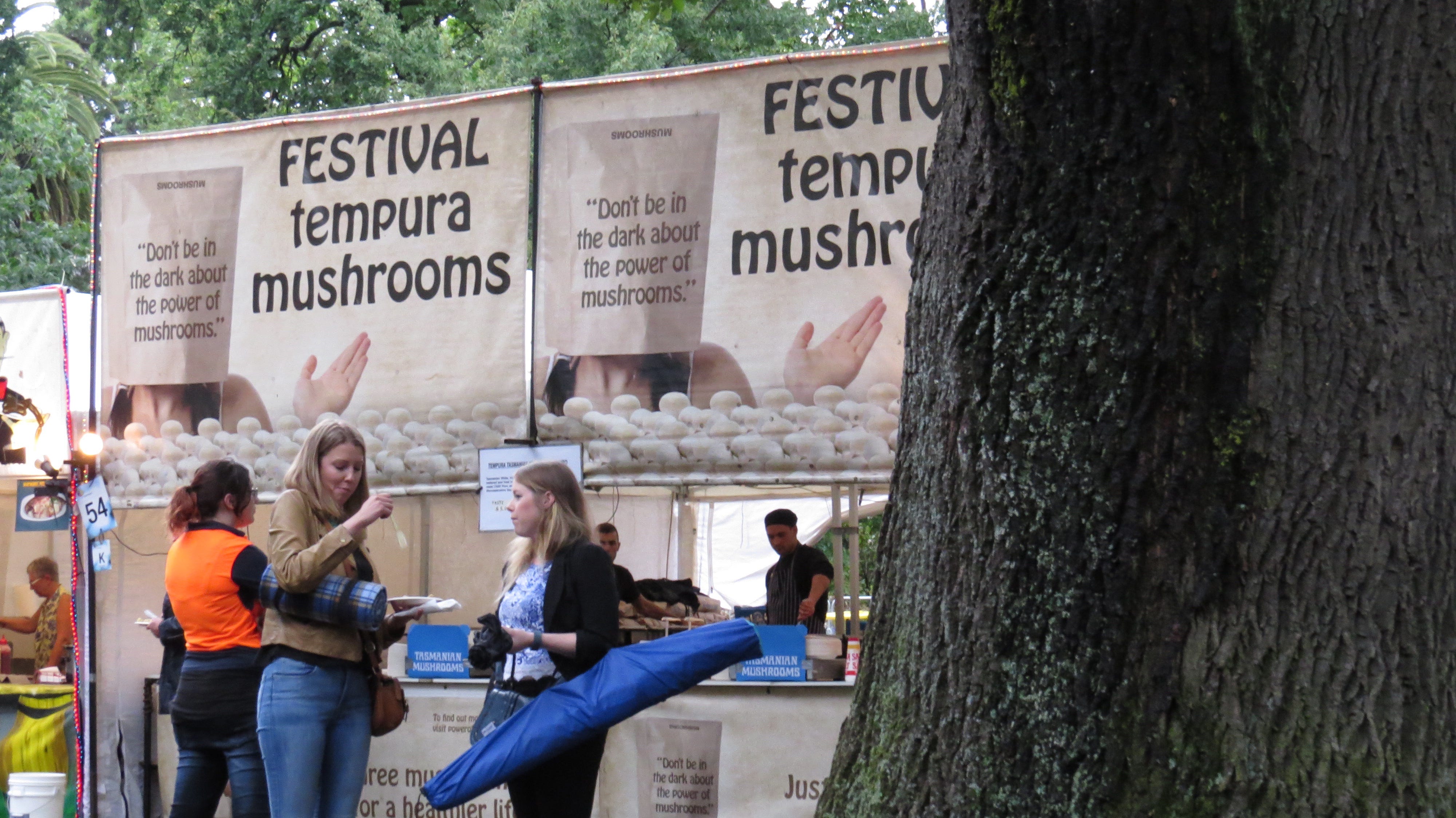 4.  JUICY ISLE
600ML HARTZ STILL WATER
330ML THE GOOD RANGE
375ML HARTZ SPARKLING MINERAL RANGE
350ML PURE TASSIE SPARKLING WATER
250ML POP TOP JUICE
350ML JUICY ISLE JUICE RANGE
330ML CAROLINE'S SPARKLING APPLE CIDER VINEGAR
5.  ASHGROVE
LITTLE CHEESE – Little Cheese & Cracker Cup
BIG CHEESE – Large Grazing box – Cheese, charcuterie, chutney, fruits, crackers and bread.
CHEESE PICNIC BOX – Tasmanian Cheese Picnic

MOO SHAKE – 

Chocolate, vanilla and strawberry flavours available.

MEGA SHAKE – 

Killer Vanilla, Choccie Woccy or Pinky Winky
7. FOOD OF HIMALAYAS
CHICKEN MOMO DUMPLINGS
VEGETABLE MOMO DUMPLINGS
PORK MOMO DUMPLINGS
GOAT CURRY WITH RICE
SAMOSA & ONION FRITTERS
CHICKEN CURRY WITH RICE
8. FORGOTTEN ISLAND BREWERY
BAY OF FIRES – RED ALE – An Irish Red with a unique Tasmania Twist
LAKE PEDDER – GOLDEN ALE UK – mild English style ale.
LAKE ECHO – XPA
MOUNT ROLAND – GERMAN PALE ALE
TASSIE BEER FLIGHT – Can't choose? Take a flight around Tassie with a sample of each of our beer types (200ml serves) of the four styles.
PINOT NOIRA rich, medium bodied Pinot Noir, with a nose displaying hints of red cherries, strawberries, and spice.
ROSE – Aromas of cherry blossom and watermelon with a palate displaying characteristics of strawberry, cranberry and musk.
SAUVIGNON BLANC – Beautiful summer wine showing tropical characteristics of guava, passionfruit and mango.
PINOT GRIS – Pale pink blush from time on skins with notes of smoky melon, pear and sweet spice.
CHARDONNAY – Lightly oaked with hints of vanilla, hazelnut, stone fruit and ripe citrus.
CABERNET SAUVIGNON – 100% Cabernet Sauvignon, with hints of dark chocolate, liquorice, raspberry, blackcurrant and plum.
11. THE BERRY CAFE
BLACKBERRY ICECREAM – Bioberries Tasmanian blackberries blended with Bulla vanilla icecream, served in waffle cone or cup, Large & Small servings.
STRAWBERRY BLUEBERRY MIXED ICECREAM – Bioberries Tasmanian strawberries and blueberries blended with Bulla vanilla icecream, served in waffle cones or cups, large & small servings.
12. HILLWOOD VINEYARD
2018 PINOT NOIR – Dark colour, good acidity, slight raspberry character a little heavier than most Pinots.
2010 RIESLING – Eleven grams of acid, eleven percent alcohol and eleven years of bottle age. The recipe. Good citrus character.
2018 SAUVIGNON BLANC – Ideal summer refreshment and a food companion. Gooseberry tropical fruit.
2012 CABERNET SAUVIGNON – Good structure on the blackcurrant side of the spectrum.
DESERT RIESLING – A great sticky white. A previous winner of Festivale "Best other White"
2017 CHARDONNAY – Barrel fermented with some stone fruit character and slight buttery hint. Good texture.
SPARKLING PINOT NV – Good Bead with a lovely pink colour.
SPARLING RASPBERRY COCKTAIL – This sparkling wine is made from slightly riper than usual Pinot Noir for sparkling and therefore softer on the pallet.
13. HELLFIRE BLUFF DISTILLERY
INSPIRIT SPRITZ – Mocktail: Inspirit spritz using local pepper berry syrup topped with soda
SLOE GIN SPRITZER – A vibrant & bright spritzer crafted with our premium Sloe Gin featuring Tasmanian berries balanced with citrus notes from finger lime and paired with sparkling soda water.
LIMONCELLO SPRITZER – limoncello, kunzea, mint and soda
SUMMER GIN AND SODA – Summer gin, sparkling soda water and delicately balanced with blood orange
PINOT GRIS – Crisp nectarine, pear & grapefruit.
SKINNY GRIS – Peach skin, guava & mandarin.
CHARDONNAY – Quince, straw & lemon peel.
SPARKLING SAUVIGNON BLANC – Creamy, toasted caramel and poached pear.
FRONTIGNAC – Floral muscat nose, dry crisp citrus finish.
PET NAT RIESLING – Fresh zingy Beurre Bosc pear, rock melon and brioche.
PET NAT ROSÉ – Rose, sweet red apple, strawberry and watermelon.
PET NAT PINOT NOIR – Raspberry, prune-plum, wild strawberry and cinnamon.
PINOT NOIR – Rich, spicy and sweet tannins.
SPARKLING ROSÉ -Floral, strawberries and cream 100% Pinot Noir
15. FLAVOURS OF LEBANON
SPICY CHICKEN BITE – Spicy Chicken, yogurt with garlic and mint and Lebanese seasonal salad.
MIX GRILLA – taste of everything on the menu: Charcoal grilled lamb, chicken, spicy beef, spicy chicken, hummus, yogurt, falafel, salad, tahini sauce and Lebanese bread.
LAMB KEBAB – Charcoal grilled lamb, hummus or yogurt, salad and tahini sauce all wrapped in Lebanese bread.
CHICHEN KEBAB – Charcoal grilled chicken, garlic sauce or yogurt and salad all wrapped in Lebanese bread.
SPICY BEEF KEBAB – Charcoal grilled beef, hummus or yogurt, salad and tahini sauce all wrapped in Lebanese bread.
SPICY CHICKEN KEBAB – Charcoal grilled chicken, yogurt and salad all wrapped in Lebanese bread.
FALAFEL WRAP – Homemade falafel, hummus (garlic sauce or yoghurt for vegetarian option), salad and tahini sauce served in Lebanese bread.
HUMMUS PLATE – Hummus plate sprinkled with sumac and finely chopped parsley served with Lebanese bread.
2017 MAIA SPARKLING – Strikingly vibrant with a suggestion of lees complexity; brisk and linear with a persistent, fine bead. Mouth-watering, precise and lucid.
2022 SMALL WONDER RIESLING – Scented and floral. Refined, pure, mineral-infused fruit that shimmers with nervous energy and tension. Stately and taut.
2022 SMALL WONDER SAUVIGNON BLANC – Punchy herbal notes. A delicate balance of ripeness and vivacity, with tangy, zesty fruit. Lovely freshness and delivery.
2021 SMALL WONDER CHARDONNAY – Neat and energetic with fresh acidity that provides inherent tension, cool expression and impressive focus.
2022 SMALL WONDER ROSÉ – Attractive pale pink colour – very understated. It is gently red fruited and has the virtue of lightness with restraint and warming generosity.
2021 SMALL WONDER LITTLE LIFE PINOT NOIR – Delicate fruit profile and fine-boned structure – it has the virtue of lightness and depth.
2021 SMALL WONDER RITUAL MADNESS PINOT NOIR – A typical expression of Pinot with contained generosity, silk-like texture and amplitude.
19. KILTRO STREET FOOD
TASSIE SEAFOOD PAELLA – Tasmanian scallops and squid, saffron, capsicum, garlic, passata and peas
VEGAN PAELLA – Vegan Paella with mushrooms, cauliflower, grilled zucchini, peas, red capsicum, garlic and saffron.
22. OSARE: LIQUORI DELLA TASMANIA
COASTAL SPRITZ – Coastal Aperitivo/Prosecco/Soda. Tasmania's answer to the Aperol Spritz. Tastes like lemonade icypoles, salt spray, light bitterness made for days at the beach.
SGROPPINO AL LIMONE (SLUSHIE)(skuroh-pee-no / al / lee-moh-neh) Limoncello/sorbet/prosecco. Boozy lemon and peach slushie with lush bubbles to top things off, cocktail or dessert – you decide.
TASSIE NEGRONI – One of the classic cocktails, now made in Tassie style. Osare Bittter (forget Campari!), our house made gin and rosso vermouth.
CURRAWONG CHINOTTO(Ki-noh-tow) Chinotto is a non-alcoholic bitter-sweet Italian citrus soda, made by our mates at Currawong Products.
DIGESTIVI DISCOVERY – A taste of Osare Digestivi (after dinner digestive liqueurs) including 4x 15ml serves of Limoncello (lemon), Amaro (bitter), Nocino (walnut) and Finocchietto (fennel).
LIQUOREA 30ml serve of any Osare liqueur. Choose from Limoncello (lemon), Amaro (bitter), Nocino (walnut) or Finocchietto (fennel).
23. PLENTY CIDER
ORIGINAL APPLE – Made from 100% Tasmanian Dessert variety apples. The result is a medium sweet, silky smooth cider with hints of vanilla and a crisp finish.
APPLE & CHERRY – Apple + Cherry cider is crafted from Derwent Valley apples + cherries. Full bodied, refreshing and ripe – this medium sweet blend is bold and punchy.
APPLE & QUINCE – Plenty Apple + Quince exudes alluring aromatics and colour. This sour sensation strikes the perfect balance between drying tannin, racy acidity and true fruit flavour.
APPLE & BLUEBERRY – This limited release sparkling is naturally attractive. A blend of blueberries blended with apple cider, striking a sensational balance between tannin, acidity and fruit intensity.
CORNUCOPIA – A rich and complex blend of French and English cider apples. Flavours of bright peach and chewy apple saturate the palate. Our cream of the crop.
APPLE & STRAWBERRY – Aromas of fresh strawberry jam, this fruit driven cider has a subtle sweetness and elegant mouth feel, think strawberries and cream with touch of toffee apple.
24. MORRISON BREWERY
SESSION ALE – 

Clean malt, medium-bodied, crisp finish bursting with grapefruit and lime. Huge amounts of flavour for a beer of only 3.5%. Easy on the palate.

TASMANIAN IPA – Super tropical, mango and guava, some white peach, slightly peppery. Caramel malts, well balanced bitter finish. 6% ABV.
IRISH STOUT – Dry and intensely roasty in both flavour and aroma. Some chocolate and espresso flavours, smooth silky body with a firm bitterness and balance. 4.7% ABV
IRISH RED ALE – Strong malt flavour and aroma with hints of biscuit and toffee. Some lingering sweetness, low bitterness. Smooth finish at 5.2% ABV
PALE ALE – Floral, spicy aromas and flavours, a golden colour and medium bodied malty base. 5% ABV.
ENGLISH BITTER – 

A traditional English Best Bitter, crisp bitterness with a strong malt backbone, a balanced beer with a dry finish 4.2% ABV. Perfect with fish.
Frozen cheesecake on a stick in various flavours.
34.  JAMES BOAG
JAMES BOAG'S DRAUGHT- An internationally recognised, multi award winning beer with a rich Tasmanian heritage. A full-bodied lager with smooth hop bitterness and a crisp, refreshing finish.
JAMES BOAG'S PREMIUM – James Boag's Premium is a traditional Australian premium lager. A full-bodied beer at 4.6% ABV. This lager represents the classic beer loved by many Australians.
JAMES BOAG'S PREMIUM LIGHT – Sometimes the right occasion calls for the right light beer. A smooth and pleasant bitterness, like its full-strength brother, provides an easy-drinking and refreshing change.
JAMES BOAG'S ST GEORGE – Brewed with citrus hops for an appealing refreshing taste. With lower carbs than most beer and a reduced bitterness this is an incredibly approachable brew.
JAMES BOAG'S XXX ALE – Beautifully coloured and full flavour. XXX Ale is crisp, balanced and aromatic. One that has the strength of character to stay close to home.
36.  LITTLE RIVERS BREWING
LITTLE BLUE LAKE GIN – Our Little Blue Lake Gin is carefully made using pure Tasmanian water, selected botanicals and then distilled in small batches.
SMALL SOUR – This light bodied sour delivers bright notes of citrus and tropical fruits. Its refreshing, sour kick is both crisp and refreshing.
PINK GIN + SODA – Our Pink Gin + Soda is made using pure Tasmanian water, selected botanicals and distilled to produce a unique and satisfying blend.
CUCUMBER COOLER – Made using our house gin with our lightly flavoured lemon + lime soda water, mixed with sugar syrup and cucumber.
VODKA CITRUS SODA – Our own vodka soda with lemon and lime. Made using our house vodka with our lightly flavoured lemon + lime soda water.
VODKA GRUMPY MULE – Our own Tasmanian vodka mule. Made using our house vodka mixed with ginger beer and lime bitters.
COASTAL GIN – Infused using locally sourced aquatic botanicals with scents of orange and ocean spray, salt water and summer berry.
FORAGER GIN – It's full of locally found and foraged ingredients that we harvest ourselves, including lemon myrtle, kunzea and Tassie pepperberry.
LAVENDER GIN – Starting with classic gin ingredients then finished with subtle notes of lavender and soft sweet rose. Featuring local lavender from the iconic Bridestowe Lavender Farm.
COFFEE LIQUOR – Distilled from local spices and botanicals, it's the vanilla, orange, cocoa, molasses, and cold drip coffee that gives this liquor its luscious appeal.
CHARCOAL ROTISSERIE LAMB SHOULDER WITH BABY POTATOES, BUTTER SAUCE – Charcoal rotisserie lamb shoulder served with baby potatoes and butter sauce.
HOT SMOKED SALMON, SWEET CORN, FREEZE DRIED RASPBERRY, GREEN COCONUT – Hot smoked salmon salad, served with sweet corn, freeze dried raspberry and green coconut.
STICKY CARAMEL PORK AND SQUID – Twice cooked sticky caramelised pork, squid, lettuce leaves, bean shoots and lime
SMOKED BEEF BRISKET AND BREAD W' NANS ZUCCHINI PICKLE – House smoked beef brisket and charcoal toasted sourdough bread w' Nans zucchini pickle.
HOUSE MADE DEEP FRIED DONUT BALLS (LUKAMADIES) – House made deep fried donut balls (lukamadies) tossed with blackcurrant and cassia syrup and fresh raspberries.
CHARCOAL ROTISSERIE PLATER FOR 2 – Charcoal Rotisserie Plater for 2 included rotisserie lamb, smoked beef brisket, sticky pork belly and calamari.
39. GHOST ROCK + SUPERNATURAL WINES
2022 P3 ROSÈ – A floral nose of rose petal and wild strawberries. The palate is vibrant and juicy.
2018 CATHERINE SPARKLING CUVEE – Deliciously moreish on the palate. Strawberry and violets fill the nose. The extra time on lees provides all of the nuances of biscuit and nut.
2022 GHOST ROCK SAUVIGNON BLANC – Gooseberry, peach and green apple lead the charge, with very subtle influences of oak fermentation.
2022 GHOST ROCK PINOT GRIS – A powerful yet nuanced portrayal of hallmark Pinot Gris – nashi pear, fig and white peach. Delicate floral and cinnamon notes glide through the background.
2022 GHOST ROCK ESTATE CHARDONNAY – Elements of stone fruits, vanilla and cream drive this classy expression of cool-climate Chardonnay.
2022 SUPERNATURAL PINOT NOIR – Wild ferment, unfined, unfiltered, low sulphur. A nuanced nose of mocha, earth and forest floor combined with pure Tasmanian fruit.
2020 GHOST ROCK ESTATE PINOT NOIR – A nose of many layers: red cherry, forest floor and violets. Lush, spicy, textured and evolving.
41.  VELO WINES
2016 VINTAGE SPARKLING – Made by 'Methode Traditionelle' from 18% Pinot Meunier and 82% Chardonnay, light hints of lemon, lime and stone fruit flavours.
2022 RIESLING – A smooth and delicate wine, very well balanced, this lovely wine has distinct juice concentration and highlights lime citrus with subtle floral accents.
2022 PINOT GRIS – Flavours of white peach and pear, elegant minerality and a crisp refreshing finish with lime notes.
2022 SAUVIGNON BLANC – This is a traditional Tasmanian Sauvignon Blanc. A smooth and fruity mouthfeel make this an ideal food accompaniment. Subtle flavours of gooseberry.
2022 PINOT NOIR – Displays juicy, vibrant red fruits with both red cherry and plum aromas. Spice and slightly toasty oak notes give the wine added interest.
2021 CABERNET SAUVIGNON – From over 50 year old vines, fresh, vibrant and fruit driven nose. Warm spice tones, fresh red berry fruit, bay leaf and toasty oak.
2022 ROSE – Full, fruity, crisp and fresh with a lovely peach nose and a hint of apple finish. Chill and enjoy with seafood.
42. SEA URCHIN DUMPLINGS PTY LTD
SEA URCHIN DUMPLINGS – Dumplings stuffed with the roe of long-spined sea urchins.
SCALLOP DUMPLINGS – Dumplings stuffed with Tassie scallops.
PORK AND GARLIC CHIVES DUMPLINGS – Dumplings stuffed with pork and chives.
ASSORTED VEGETABLE DUMPLINGS – Dumplings stuffed with summer veggies.
TRUFFLE MUSHROOM AND CHICKEN DUMPLINGS
SHRIMP, EGG AND GARLIC CHIVES DUMPLINGS
BEEF AND CAPSICUM DUMPLINGS
CHICKEN AND CELERY DUMPLINGS
VEGETABLE SAMOSA – Mashed potatoes, green peas and spices filled into a pyramid shaped dough and fried.
BUTTER CHICKEN – Boneless chicken morsels cooked in a rich creamy sauce.
ROGAN JOSH – Exotic lamb curry in an onion and tomato gravy with spices.
BEEF VINDALOO – Spiced sauce made with yoghurt, cream, onions and nuts.
MIX VEGETABLES WITH GARLIC NAAN – Chef's delight with hot chilies and vegetables cooked in a coconut based sauce.
44. KNOCKLOFTY SPIRITS
RASPBERRY GIMLET – Fresh Tasmanian raspberries, Penn Gin, lime liqueur, mint syrup and lemon juice.
G&T OR VODKA LIME & SODA – The classic G&T with Penn or All Juniper Gin, or a Knocklofty Vodka Lime & Soda (fresh lime or syrup).
ESPRESSO MARTINI – Knocklofty Dark Kahvi Coffee Liqueur, Vodka, Orange Liqueur & espresso shaken over ice.
BLOODY MARY – Knocklofty Vodka, tomato juice, lemon juice, ponzu sauce & sriracha
DARK & STORMY – Our limited release rum, lime liqueur, lime juice & ginger beer. Served on ice.
45. PIZZIRANI'S CUCINA
BOLOGNESE SPRING ROLL – A fusion between traditional Thai spring rolls and our authentic bolognese sauce with smoked cheddar and jalapeño salsa.
CACIO E PEPPERBERRY FRIES – Italian style fries, cacio e pepe sauce, Tasmanian pepperberries.
PASTA DEL GIORNO, UMAMI BUTTER AND CRAB – Homemade pasta, house umami butter and Tasmanian crab.
MISO CARAMEL TIRAMISU – Tiramisu with miso caramel and liquor.
PASTA DEL GIORNO – Fresh seasonal pasta sauces with homemade pasta.
APEROL SPRITZ
LIMONCELLO SPRITZ – Italian lemon spritz
47. DELLA VALLE GELATO NATURALE
FRESH GELATO BY THE CUP OR CONE – An exciting range of traditional and innovative flavoured gelato using the freshest Tasmanian ingredients.
DAIRY FREE SORBETTO BY THE CUP OR CONE – A range of refreshing fruity flavours available using fresh local produce.
GELATO UNICORN – A rare beast often seen lurking around Festivale. Gourmet vanilla gelato soft serve with a uni'cone' and a Persian fairy floss mane.
HAZELNUT SEMIFREDDO CANNOLI – Crisp chocolate lined wafer tubes with a luscious Tasmanian hazelnut semifreddo filling.
BERRY GELATO SMASH – Local summer berries, vanilla soft serve, berry compote topped with cream, meringue shards and Anvers chocolate drizzle.
MINI HEART GELATO STICKS – Heart shaped vanilla or chocolate gelato encased in a chocolate shell.
TWISTED SPIDER – a twist on the traditional spider using a range of Hartz flavoured mineral waters and our own gourmet vanilla gelato swizzle stick
50.  LITTLE DEVIL DONUTS
BAG OF MINI DONUTS (12 PER BAG) OR SHARE PLATTER (20 DONUTS) – Mini donuts cooked fresh to order and served with cinnamon and sugar. Perfect to share with friends or enjoy on your own!
HOMEMADE DIPPING SAUCES – Dipping sauces to complement your donuts – we have four flavours – salted caramel, choc fudge, lemon curd, berry coulis.

SLUSHIE DRINKS MADE WITH 99% FRUIT JUICE FRUCHILLA CONCENTRATE – 

Refreshing slushie drinks that you'll feel happy to enjoy yourself or buy for your children. Made with 99% fruit juice.

HARTZ BOTTLED WATER 600ML
52.  LITTLE RED COFFEE VAN
BURRITO BOWL – Burrito bowl with: rice, lettuce, cheese, beans, tomato, corn, corn chips, beef and chipotle dressing.
NACHOS – Nachos
ESPRESSO – All things coffee and shakes.  Prices range from $4.50 – $6.50.
55.  DEVIL'S BREWERY
TOMATO AND BASIL BRUSCHETTA – Garlic crostini topped with whipped fetta, summer ripened tomato, fresh basil & pepperberry vinaigrette
BREWER'S TASMANIAN PLATTER FOR ONE – Lemon/pepper chicken, continental kabana, whipped fetta, tasty cheddar, pickled carrots, marinated mushrooms, glazed green beans, tomato/basil salsa, roasted beetroot dip, summer frittata, toasted ciabatta
BREWER'S TASMANIAN PLATTER FOR TWO – As above but with more to share
BREWER'S TASMANIAN VEGETARIAN PLATTER – Summer vegetable frittata, roasted beetroot dip, whipped fetta, pickled carrots, marinated mushrooms, tasty cheddar, tomato/basil salsa, glazed green beans, spicy olives, toasted ciabatta
CHOCOLATE ESPRESSO BROWNIE – For the sweet tooth, a home-made brownie full of chocolate and Devil's Brewery espresso stout. Add some summer fruit and cream.
DEVILS BREWERY TASMANIAN LAGER ABV 4.2% – Tasmanian Lager is a crisp and refreshing beer. Tassie Enigma hops from Bushy Park help to create flavours like passionfruit and citrus.
DEVILS BREWERY PALE ALE ABV 5% – Pale Ale uses Tassie grown Galaxy and Cascade hops throughout the boil to really brighten up this American style Pale Ale.
DEVILS BREWERY MID STRENGTH MARZEN ABV 3.5% – Mid strength Marzen is low in alcohol and high in refreshment. It is rich in malt with clean hop bitterness and biscuit like aroma
DEVILS BREWERY UK IPA ABV 6.8% – UK IPA is a hearty, no-nonsense and bold style English Pale Ale. Fuggles and Golding hops result in a smooth yet robust beer
DEVILS BREWERY SMOKED PORTER ABV 5.8% – Smoked Porter is gently hoppy, savoury and smoky. Golding hops, smoked malt and molasses help to create a very distinctive beer
DEVILS BREWERY PINEAPPLE SOUR ABV 5% – Our special release Pineapple Sour is tropical with clean zingy sourness. A lighter style flavour packed beer that is perfect for summer
KING ISLAND CRAYFISH ARANCINI WITH SMOKEY CHIPOTLE AIOLI – 3 x Tasmanian King Island Crayfish Arancini served with Smokey Chipotle Aioli.
HALF TASMANIAN CRAYFISH SERVED WITH TASSIE CHIPS, SIDE SALAD & SMOKEY CHIPOTLE AIOLI – Half Tasmanian Crayfish Served with Chips, Side Salad & Smokey Chipotle Aioli.
GINSENG BATTERED TASMANIAN SCALLOPS WITH CHIPS & SIDE SALAD – Crunchy Ginseng Battered Tassie Scallops served with our delicious Tassie Chips & Side Salad.
SALT'N'PEPPER AUSTRALIAN CALAMARI WITH CHIPS & GARLIC AIOLI – Freshly prepared Salt'n'Pepper Australian Calamari with Chips & Garlic Aioli. Lakes Entrance Fishermen's Co-op Victoria.
70. COLOMBO TRUCKER
VEGETARIAN FRIED RICE
CHICKEN FRIED RICE WITH DEVILLED CHICKEN
CHICKEN KOTTU
EGG KOTTU
LOAD OF FRIES
SRI LANKAN SPRING ROLL
73. SMALLEST PANCAKES FESTIVALS
MINI DUTCH PANCAKES – Mini Dutch pancakes served with fresh berries or a berry compote, topped with icing sugar and your choice of ice cream.
MIXED BERRY FRUIT FLAN – Tasmanian mixed berries served in a shortbread shell, with a soft custard filling finished with either chocolate ganache or icing sugar.
PANCAKE TRIFLE – Mini Dutch pancakes served with soft custard and berry compote.
74. TRUFFLE FARM CATERING
Menu to come.
76. 7K DISTILLERY
7K SPRITZ – 7K Raspberry Aperitif, Tasmanian sparkling wine & soda. "Bittersweet & bubbly, just like that girl you know. You know the one."
BEACHSIDE COLLINS – 7K Tasmanian Island Dry Gin, ocean soda, sugar & citrus. "Citrusy & refreshing, like being splashed in the face by a particularly playful wave."
RASPBERRY SOUR – 7K Raspberry Gin, lemon juice & sugar. "Fruity, sweet a hint of sour. Like having lunch with your Nan who doesn't like your tattoo."
GIN-GER MULE – 7K Dry Chilli Gin, Taspop Ginger Beer, Citrus. "Sweet and a bit spicy. Ever been kicked in the face by a beverage?… wanna be?"
LEMONADE ICYPOLE – 7K Vodka, Lemon Myrtle, citrus, sugar & soda "Sweet, sticky, memories"
7K G&T – 7K Gin, Taspop Light Tonic water "Gin. Tonic. Enjoyment."
TASMANIAN LAMB WITH LEATHERWOOD HONEY, FRESH MINT AND ROSEMARY SAUSAGES – sweet flavour of lamb and leatherwood honey mixed with fresh mint and a hint of Rosemary topped with spiced pear chutney in a long roll
CHICKEN, PARMESAN, CRACKED PEPPER, ITALIAN HERB SAUSAGES – full flavour cheesy sausages topped with lettuce parmesan cheese caesar dressing in a long roll
GOURMET STEAK ROLL – slices of Tasmanian grass fed rump cap with a marble score 4 on a ciabatta roll with fried onion, Tasmanian cheddar and beetroot relish
SHARE PLATTER – gourmet lamb sausage, gourmet chicken sausage, gourmet steak roll
79.  BREAM CREEK VINEYARD
SPARKLING ROSÉ – A pale salmon blush in the glass, this wine has a lovely dry red berry palate.
2021 SCHÖNBURGER – This wine, made from a rare German grape, shows its traditional complex nose of lychee, rose petal and musk.
2022 RIESLING – This wine has an aromatic nose of citrus and green apple, while the palate shows intense lemon and lime flavours and a dry finish.
2022 PINOT GRIGIO – Our premium cool climate Pinot Grigio features a dry and crisp palate, showcasing a combination of green apple, pear and lemon flavours.
2022 SAUVIGNON BLANC – In our traditional style, this wine has a crisp palate of melon, guava and herbs with excellent balance and length.
2022 CHARDONNAY – This premium cool climate Chardonnay showcases stone fruit, citrus and integrated French oak flavours.
2022 PINOT NOIR ROSÉ – This popular easy drinking style of wine shows enticing flavours of strawberries and raspberries on the nose and palate, finishing crisp and dry.
2021 MOSCATO – Our Moscato (made from a blend of Schönburger and Gewurztraminer) is lightly sparkling and medium sweet.
2018 LATE PICKED SCHÖNBURGER – This rare dessert wine shows delicate aromas of apricot and poached yellow peaches. The palate has rich stone fruit flavours with a clean finish.
2021 ESTATE PINOT NOIR – This wine has a fragrant cherry nose with spice hints, supported by an elegant palate of red and black cherries and excellent tannins.
2021 CABERNET MERLOT – The nose is aromatic with blue and black forest berries, while the medium bodied palate features blueberry and blackberry fruits.
80.  LEBANESE SUJUK
CHICKEN KEBAB – Lebanese style chicken kebabs
BEEF CHILLI KEBAB – Lebanses style beef chilli kebab
SUJUK SANDWICHES – Lebanese style sandwiches, including lebanese sausage with pickles tomato salad
MIX PLATTER – includes 2 skewers, sujuk salad and dip
TASMANIAN CUVEE ROSE NV – Attractive stewed strawberry, dark cherry and brioche notes. Well structured with sweet red berries and cream enveloping the palate.
VINTAGE RICHE 2017 – Creamy and moreish, this sparkling draws focus from its increased sweetness but is driven by the natural acidity of Tasmanian Sparkling and Clover Hill style.
VINTAGE BRUT 2016 – Exquisite nutty and toasted notes on the nose with a hint of seaspray and oyster shell. Delivering seamless acidity and creaminess indicative of Pipers River.
CUVEE FOUDRE NV – Complex characters of toast and brioche fill the nose. Derived from aging in 58hl Foudre prior to tirage.
NOIR EN BOIS NV – This Pinot Noir dominant wine has attractive toasty brioche and strawberry upfront. Creamy, textural mid palate and crisp acidity.
CUVEE EXCEPTIONNELLE BRUT ROSE 2017 – Soft salmon blush with fine persistent bead. Rich flavours of strawberry, citrus and hints brioche.
CUVEE PRESTIGE 'LATE DISGORGED' BLANC DE BLANCS 2010 – Lemon curd, toasted nuts, coupled with brioche and briny oyster shell minerality. Layered textures and complexity.
VINTAGE BRUT MUSEUM MASTERCLASS – Experience the evolution Clover Hill's house style through 6 different vintages. From its humble beginnings in 1994, to our current release 2016.
84.  MOUNT GNOMON FARM
PORK TACO – Slow cooked free range pork shoulder with sour cream, kasundi and coriander.
BEEF N SMOKEY BACON BURGER – Our famous festival burger, rare breed beef, free range bacon, cheddar cheese, caramelised onion and homemade relish.
NOM NOM PLATE – A taste of the farm without going the whole hog.
CAROLINA PORK BUN – Slow roasted free range pork shoulder, southern slaw and barbecue sauce.
BARBECUE SHARE PLATE – A barbecue feast of charred seasonal vegetables and free range meat.
FRIES – Tasmanian Fries.
ORCHARD CIDER – Handcrafted cider produced from heritage apples grown at the farm
THREE CUTS GIN + TONIC – Three Cuts Gin + Capi Tonic and Fresh Lime.
THREE CUTS GIN + SODA – Three Cuts Gin + Soda Water and Fresh Lime.
THREE CUTS SUPER SLUSHY – Three Cuts Gin Frozen Slushy cocktail with fresh watermelon.
PINK GIN FIZZ – Three Cuts Gin + Hibiscus Syrup + Fresh Lemon Juice + Soda Water + Fresh Watermelon.
SOUTHSIDE – Three Cuts Gin + Fresh Lime Juice + Soda and Mint.
89. LOST PIPPIN AND THE LAMB BAA
LAMB SHAWARMA – Fire roasted lamb leg served on Arabic flat bread with salad, herbs and tahini dressing. Vegetarian option.
CIDER BRAISED LAMB – 16 hour cider braised lamb shoulder served with spelt and beetroot salad.
POPCORN LAMB AND CIDER FRIES – Like chicken but lamb. Bite sized pieces of crumbed buttermilk lamb served with our famous cider battered fries. Cider fries $8
LAMB SHARE PLATTER – A taste of all of our dishes with bonus lamb handles.
LOST PIPPIN – CORE RANGE – Sparkling Apple – Refined apple simplicity Wild – Funky, off-dry, structured beast Session – Cloudy, sweet, low-ABV Hard – Suitable for hardy folk and lumberjack types
THE DUCKS GUTS – The good stuff, made from 100% traditional cider apples. Long, full bodied just bloody good cider
THE RARE PEAR – Perry 100 years in the making. Traditional perry naturally fermented in the bottle.
JOSEF CHROMY NV TASMANIAN SPARKLING CUVEE – Pale straw colour with a lively fine bead and palate of green apple, lemon with hints of toasted biscuit.
JOSEF CHROMY NV TASMANIAN SPARKLING ROSE – A vibrant Méthode Traditonelle Sparkling Rose with lifted fresh field berries carry onto a clean textural palate with length and freshness.
2022 JOSEF CHROMY PINOT GRIS – Beautiful complex aromas of stone fruit, apples and hints of musk. A rich full palate with a crisp, refreshing acidity to finish.
2022 JOSEF CHROMY SAUVIGNON BLANC – Flavours of lifted citrus, lychee and elegant passionfruit is supported by crunchy acidity, providing a fresh clean finish.
2022 JOSEF CHROMY ROSE – This single block estate grown Pinot Noir produces a vibrant rose with red berry aromas and subtle floral notes leading to a crisp, fresh finish.
2020 JOSEF CHROMY SGR RIESLING – Low alcohol, medium sweet Riesling. Fresh and lifted cumquat blossom and suckle. Varietal kaffir lime leaf, peel mandarin, honeydew melon and pome fruit.
2021 JOSEF CHROMY PEPIK PINOT NOIR – A generous and plus palate of ripe dark cherries, blueberries and plum. The tannins are supple, fine and well-structured to provide and intense lingering finish.
2022 JOSEF CHROMY CHARDONNAY – Fresh palate showing ripe nectarine and juicy fresh pear characters. Lifted, developed citrus notes are underpinned by cashew and blanched almond.
2020 JOSEF CHROMY PINOT NOIR – Elegant palate builds with layers of raspberry, forest floor and lapin cherry. Smooth, mid palate with layers of dark chocolate and cherry.
92. FRANK'S CIDER
FRANK'S SUMMER APPLE CIDER – Frank's Summer Apple Cider is crafted from tree ripened apples grown on the family farm at Franklin in the Huon Valley.
FRANK'S CHERRY PEAR CIDER – Frank's Cherry Pear Cider is a luscious blend of two Tasmanian favourites. Ripe red cherries juicy, ripe pears.
FRANK'S RASPBERRY PEAR CIDER – Frank's Raspberry Pear Cider is a combination of the very best Tasmanian fruits. Ripe pears overlaid with a subtle ripe raspberry finish.
FRANK'S SUMMER PEAR CIDER – Frank's Summer Pear Cider is created with a combination of heritage pears to produce a complex cider (perry) with floral aromas.
93.  BARRINGWOOD
NV TASMANIAN CUVEE – A flamboyantly youthful and vibrant cuvée, driven by the aromas and flavours of pinot noir and the structure and focus of chardonnay.
2021 SCHONBURGER – A delicate aromatic wine perfectly suited to matching with spicy food and alfresco dining.
2019 ROSE – Aromatic off-dry rosé, fashioned to spark joy.
2021 ESTATE PINOT NOIR – A vibrant fruit forward Pinot which mellows to a spicy savoury finish.
2020 GRAZIER'S PINOT NOIR – Rich crimson hue and a fleshy palate with rich fruit characters and subtle spices.
2020 MILL BLOCK PINOT NOIR – Gentle fruit characters give way to delicate savory spiciness and vibrant minerality.
2017 CLASSIC CUVEE – Chardonnay, Pinot Noir and Pinot Meunier blend, 48 months lees aging resulting in a wonderfully rich, complex sparkling wine.
2021 RIESLING – Juicy, zesty and vibrant with a rounded mouth feel
2022 SAUVIGNON BLANC – Beautiful balance between bright melon and citrus characters and a smooth rich mouth feel.
2022 PINOT GRIS- Rich full palate complimented with a fresh back bone of cool climate acidity.
94. LA CANTARA ARTISAN CHEESES
TEQUEÑOS – Deep fried Queso Blanco cheese sticks wrapped in pastry, served with a home made dipping sauce.
PAN FRIED QUESO BLANCO CHEESE – Queso Blanco wrapped in pancetta, served with bread and butter, pickles and sourdough bread.
VENEZUELAN CACHAPAS – Sweet corn pancake-like stuffed with Queso de Mano Cheese and topped with sour cream and shredded Queso Blanco cheese.
TASTE OF LA CANTARA – A mini version of our three main dishes- Tequeños, Pan fried Queso Blanco Cheese and Venezuelan Cachapas.
95.  JUICY ISLE
600ML HARTZ STILL WATER
330ML THE GOOD RANGE
375ML HARTZ SPARKLING MINERAL RANGE
350ML PURE TASSIE SPARKLING WATER
250ML POP TOP JUICE
350ML JUICY ISLE JUICE RANGE
330ML CAROLINE'S SPARKLING APPLE CIDER VINEGAR
96. TASMANIAN CHILLI BEER COMPANY
GINGER BEER – All-natural ginger beer, full-flavoured & very gingery!
GINGER CHILLI BEER – Spicy ginger beer with a tweak of chilli! All-natural and feisty!
GINGER BEER WITH LEATHERWOOD HONEY – Full-flavoured ginger beer brewed with Tasmanian Leatherwood honey
RASPBERRY SPARKLING – A luscious and ripe Tasmanian Raspberry juice drink, with just a hint of chilli.
LIME SPARKLING – Tangy, refreshing lime juice brewed with a hint of chilli.
BLACKCURRANT SPARKLING – Vibrant and tangy blackcurrant juice brewed soda.
LOCAL MULE – (ALCOHOLIC GINGER BEER)-A smooth and very gingery alcoholic ginger beer.
SPICY MULE – (ALCOHOLIC GINGER CHILLI BEER)A feisty, full-flavoured and very gingery alcoholic Ginger Chilli Beer.
GIN, TANG & SPICE – Tangy, refreshing McHenry Distillery Gin and lime, with a hint of chilli.
RED DEVIL – A real raspberry and vodka drink! Ripe Tasmanian organic raspberry juice with a splash of McHenry Distillery triple distilled Tasmanian vodka.
GALAXY GINGER BEER – Tasmanian Galaxy-Hopped Ginger Beer, a touch bitter and very complex!DARK & STORMYA broody blend of our own aged and spiced rum, blended with our strong ginger beer. Smooth, cloudy and delicious!
98. WESTERN TIERS DISTILLERY
GRUMPY OLD MAN – A charming blend of Poitín, Ginger Ale, Lemon & Lime to delight your taste buds.
NELLS GIN MOJITO PUNCH – Nells Bluff Gin, Lime Juice, Ginger Beer & Mint. Fresh & deliciously good.
SLOE SEX – An hedonistic mix of Quamby Bluff Sloe Gin, Wild Dog Tier Vodka, blended with Orange & Cranberry Juice with a hint of Vanilla.
CLASSIC G&T – Choose from our premium Tasmanian gins: Nells Bluff, Dry's Bluff or Quamby Bluff Sloe Gin – mixed with Tonic Water and served over ice.
BREONA'S GIN BLISS – A delightful summer berry cup punch that's sure to please all fruit & gin lovers.
ESPRESSO MARTINI – Lady Lake Hut Coffee Liqueur, Wild Dog Tier Vodka – mixed to perfection and shaken for you to enjoy!
BOTTLE SALES – GIN 700ML – 700ml bottles of our premium gin available to purchase: Dry's Bluff Gin, Nells Bluff Flavoured Gin, Quamby Bluff Sloe Gin and Breona's Flavoured Gin.
BOTTLE SALES – 700ML – 700ml bottles of our premium spirits available to purchase: Wild Dog Tier Vodka, Devil's Gullet Irish Moonshine (Poítin) and Lady Lake Hut Coffee Liqueur.
104.  WILLIE SMITH'S
TRADITIONAL CIDER – This golden unfiltered traditional style cider allows the apple to really sing. Heirloom French and English cider apples steal the show, giving complexity and freshness.
ORGANIC CIDER – Our original cloudy cider, made with 100% organic apples grown on our farm. Left with a little added sweetness. This is one very drinkable tipple.
BONE DRY CIDER – The long ferment on this cider creates a clean, crisp and refreshing drink. As the name suggests its dry, very dry.
HERITAGE BLEND CIDER – A delicious blend of heritage apples, diverse in flavour and personality. Sweets, sharps, bittersweets and bitter sharps.
APPLE BRANDY HIGHBALL – Lifted floral and orchard fruit aromas are present in this refreshing summer cocktail.
NON-ALCOHOLIC APPLE CIDER – Stay social with our non-alcoholic cider. Refined and refreshing, It's not too sweet with balanced acidity to provide structure. Always be part of the party.
107.  JAMES BOAG
JAMES BOAG'S DRAUGHT – An internationally recognised, multi award winning beer with a rich Tasmanian heritage. A full-bodied lager with smooth hop bitterness and a crisp, refreshing finish.
JAMES BOAG'S PREMIUM – James Boag's Premium is a traditional Australian premium lager. A full-bodied beer at 4.6% ABV. This lager represents the classic beer loved by many Australians.
JAMES BOAG'S PREMIUM LIGHT – Sometimes the right occasion calls for the right light beer. A smooth and pleasant bitterness, like its full-strength brother, provides an easy-drinking and refreshing change.
JAMES BOAG'S ST GEORGE – Brewed with citrus hops for an appealing refreshing taste. With lower carbs than most beer and a reduced bitterness this is an incredibly approachable brew.
JAMES BOAG'S XXX ALE – Beautifully coloured and full flavour. XXX Ale is crisp, balanced and aromatic. One that has the strength of character to stay close to home.
DU CANE ASCENDING FALLING MOUNTAIN PILS – Peak Pils is a classic, German-style pils with notes of hay, sweet malt, black tea, with a creamy texture and a dry finish. Prost!
DU CANE HUT TO HUT WALK PALE ALE – A heavily hopped, lean pale ale. A super simple recipe is dominated by flavours of ripe pineapple and stone fruits. Beer made to take hiking.
DU CANE RESTING AT PINESTONE VALLEY CREEK MID – With a gentle backbone of pale malt and oats, our mid is an easy drinking Pale Ale that is still hopped to the hilt.
DU CANE RENDEZVOUS AT PELION GAP IPA – Lean malt base with a tropical and stonefruit aroma, and a hint of pine resin. Fairly dry palate with full bitterness, stonefruit and citrus.
117. DIVINE DESSERTS
HOT BERRY PANCAKES WITH VANILLA ICE-CREAM – An assortment of fresh berries atop a thick pancake served with vanilla ice -cream
PASSION FRUIT AND CHOCOLATE MOUSSE CAKE – A layered mouse cake consisting of chocolate base, passion fruit mousse topped with passion fruit gaze
VANILLA PANNA COTTA WITH FRESH BERRIES
TASTE PLATE – a selection of delicious taste sensations
TOBLERONE CHEESECAKE – A delightful cheesecake for lovers of Toblerone
119.  EASTFORD CREEK VINEYARD PTY LTD
PINOT NOIR – Red plum, blackberries and cassis, mellowing to raspberry and subtle oak.
CHARDONNAY – Stone fruit, grapefruit, citrus and gooseberry.
SPARKLING – Fresh nectarine and white peach gives way to hibiscus and golden pears.
PINOT GRIS – Ripe citrus, nectarine, peaches and cream with hints of toffee apple on the nose.
120.  CEYLON CUISINE
CEYLON CHICKEN CURRY WITH RICE – Ceylon chicken curry with homemade spices.
SPRING ROLLS (3 PIECES) – Spring rolls filled with carrots, leeks and green cabbage.
LAMB OR BEEF CURRY WITH RICE
FRIED RICE
BUTTER CHICKEN WITH RICE
SAMOSA
CRISPY LENTILS (2 PIECES)
CEYLON DONUTS (3 PIECES)